New Library for Sharon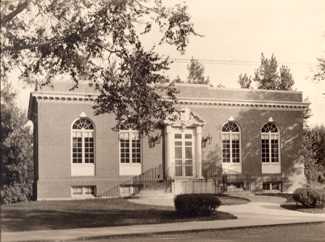 Sharon Public Library is a vital part of our community.
Built in 1914, the Carnegie-funded library has been an integral part of downtown Sharon for generations. Despite two additions, the current building no longer serves the needs of the current 18,000 residents of Sharon. The new library will provide much-needed modern services for today's community.
$49,245 planning and design grant awarded
$7,485,943 grant was awarded toward the $18M project
---
Highlights of the New Library
The entire library will be ADA compliant for physical, sight, and hearing challenged users.
ADA Interior Access - the new library will be completely accessible for walker and wheelchair access throughout the building including aisles between shelving, spaces between computer stations, and space around tables and chairs. A quiet study room will be available for the sight and hearing challenged complete with special computer equipment and software. The community room will be hearing accessible via the use of a hearing loop or other system.
ADA Exterior Access - accessible to book drop and building entrance. Handicapped spaces right in front of the entrance to the new building.
Adults – the new library will have an expanded selection of adult and youth fiction, non-fiction, audio, and video collections. The new materials and large print areas will have plenty of comfortable seating. There will be an expanded computer technology center and local history room with secured shelving and meeting room capability. A quiet reading area with comfortable seating will accommodate patrons reading newspapers and magazines. Three quiet study spaces, one of which will serve hearing and sight-challenged patrons, will also be available on the first floor. Laptop/notebook computer counters with tel/data access will be available throughout the building.
Adult Students – A quiet study room will be available for exam proctoring.
ESOL Instructors and Students – A large meeting room is planned to serve ESOL training and conversation circle discussions. This room will seat between 16-18 students and can be reserved for other purposes.
Business Pod – A small meeting room complete with a whiteboard and tel/data capability can be reserved for private meetings with clients, conference calls, or skype sessions.

Children and Families – The children's room will accommodate youth up to grade 5 and will have expanded picture book, easy reader, board book, audio, video, fiction, and non-fiction collections. It will have a separate storytime area with comfortable seating for both adults and children. There will be an early learning activity center inside the children's room. A family bathroom will accommodate parents and young children right inside the children's room.

Tweens and Teens – The young adult area will accommodate grades 6 through 12 with comfortable seating, an expanded YA fiction collection, college and career guides, and graphic novels. Table seating will be available for joint homework projects, quiet study, and tutoring. This space will be complete with a Media Lab, Innovation Center for STEAM (science, technology, engineering, art, and mathematics) education and life skills training, and updated technology space for coding classes, computer-aided robotics training, and other uses.

Public Meeting Rooms:
The community room will seat between 100-120 people and will be able to be split into two separate smaller meeting rooms with sound-deadening walls. AV capability will be available in both spaces.
The community room can be reserved for after-hours use according to updated library policy and will have a kitchenette, bathrooms, AV, and table storage.
The community room will also be ADA hearing accessible, employing a hearing loop or some other hearing technology.

Infrastructure – Broadband connectivity will be improved.
The library will better serve its mission as a "shelter in a storm facility" during power outages through the use of a generator. When power outages occur, patrons use the library to power their cell phones and other devices or for online insurance/banking needs. They also come to the library for heat/cooling as indicated by the weather.

---